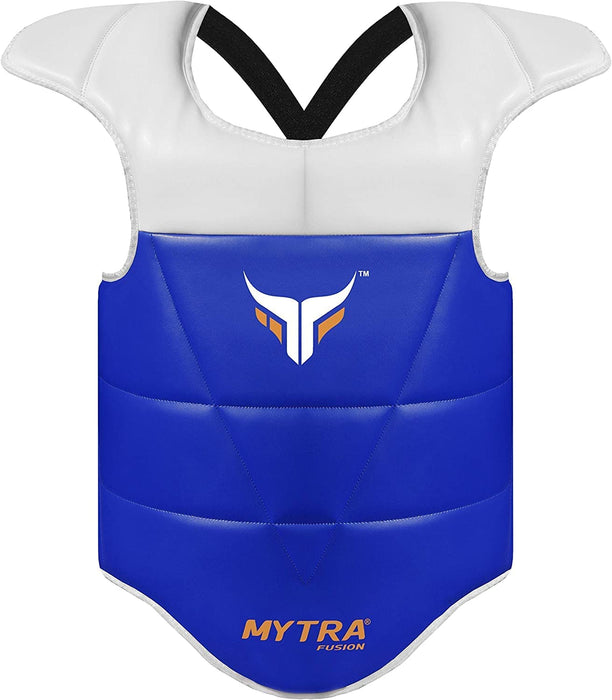 Mytra Fusion Kids Taekwondo Chest Guard Chest & Belly Protector Body Shield Body Armor for Martial Arts
| | |
| --- | --- |
| Colour | Blue |
| Brand | Mytra Fusion |
| Material | Synthetic Leather |
---
About this item
➣ The Mytra Fusion Kids Taekwondo Heavy Hitter body shield is made of a durable synthetic leather that can stand up to constant abuse, and features very dense foam to absorb even the hardest of impacts. It's a smart choice for both professional and recreational use.


➣ It features a combination CTR-X foam stuffing that offers excellent hit absorption and helps trainers and fighters avoid injury during sparring. The unisex design fits women just as well as men, too.


➣ With adequate padding, the Mytra martial art body protector can absorb almost any punch or kick, even from heavy hitters who just love to attack using full force. The interior is lined with a moisture-wicking material, so you probably won't mind wearing it for long training sessions.


➣ Crafter with prime quality TRG-Synthetic leather exterior that doesn't crack or peel even after years of constant use. It is filled with over an inch-and-a-half of dense foam that offers a nice balance of protection and size, so it doesn't feel too bulky on the body.



➣ The smart construction of the body protector allows it to evenly disperse impact forces, so you don't feel too much pressure in any one spot when hit. It is suitable for training boxers as well as Muay Thai and MMA fighters to improve their body shots.