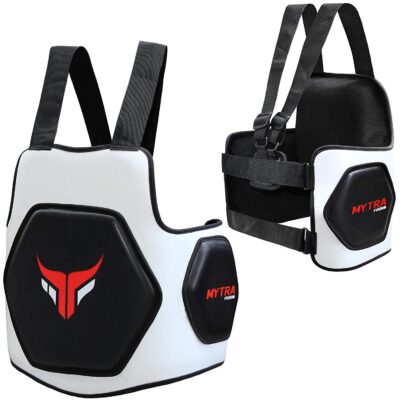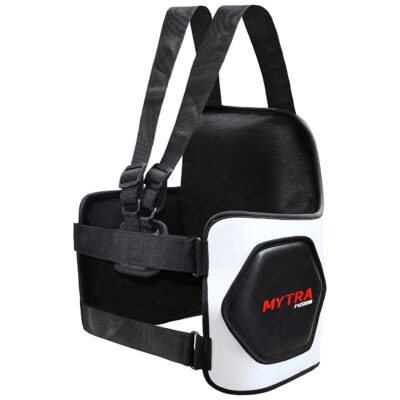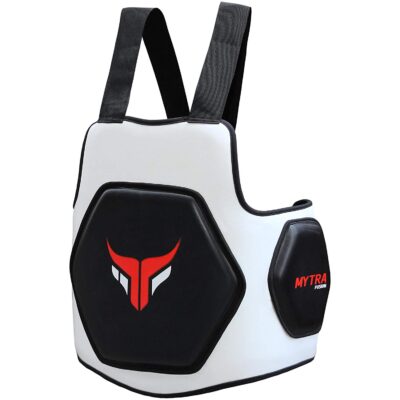 Mytra Fusion Body Protector R2 Body Shield for Boxing MMA Muay Thai Fitness Gym Workout
| | |
| --- | --- |
| Sport | Kickboxing |
| Brand | Mytra Fusion |
| Age range (description) | Adult |

About this item

DURABILITY: The Mytra Fusion Body Shield is made of a durable synthetic leather that can stand up to constant abuse, and features very dense foam to absorb even the hardest of impacts. It's a smart choice for both professional and recreational use.
STREAMLINED DESIGN: Mytra Body Armor features a streamlined design, measuring just 3/4 of an inch thick. It is good for trainers who need to be able to move quickly while working with their fighters, and is ideal for really heavy hitters, since it offer the impact protection at par.
ADDIONAL CUSION: The Mytra Rib Shield is powered by synthetic leather exterior that doesn't crack or peel even after years of constant use. It features a pentagon additional space that is filled with over an inch-and-a-half of dense foam that offers a nice balance of protection and size, so it doesn't feel too bulky on the body.
IMPACT ABSORBANT: The smart construction of the Mytra Body Shield allows it to evenly disperse impact forces, so you don't feel too much pressure in any one spot when hit. It is suitable for training boxers as well as Muay Thai and MMA fighters to improve their body shots.
UNISEX CONSTRUCTION: The Body Protector features high-density padding that is covered by a synthetic leather shell to offer added protection against full-force hits. The unisex design fits women just as well as men, too.