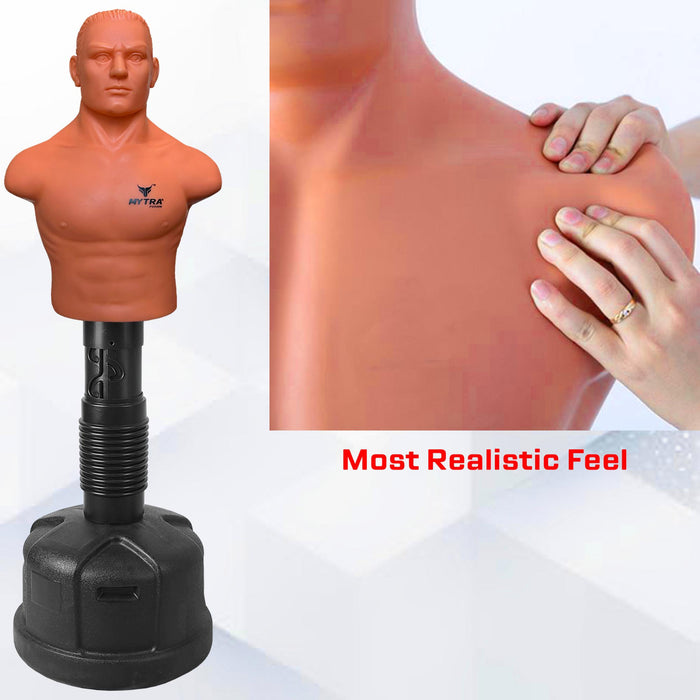 Mytra Fusion Standing Dummy Big Torso opponent body bag Pedestal Martial Arts Focus Punching Free
Mytra Bob Dummy is the primary choice for the athletes. Made from high-quality plastisol filled with urethane foam to resist extreme punches and kicks.


    The hard coat Polyethylene base holds up to 270 pounds of water or sand to provide a strong stability point for the dummy. With multiple height options, the boxing dummy can be adjusted according to the training needs of the professionals.


    If you are doing self-defence training you can get much better in actually seeing into the eyes of the dummy and striking the nose or chocking the neck this martial arts training target provide prescient striking option than hitting the traditional bag.


    Equipped with a Double-XR hard composition this boxing gear provides great resistance to the punches. Powered with the portable grappling design this Muay Thai strike pad can be used for grappling training and can be carried at any place without much effort. Easy to assemble this grappling dummy can be fixed in less than a minute.


    This Pedestal Boxing Bag is specifically designed for the fighters to test their skills specifically punching, sparring, grappling, choking and kicking. Perfect training partner great for precision as it enhances the accuracy for a boxer in the rings.